Signed and sealed
---
In line with the motto, "Do good and talk about it", we would like to mention a few awards that Delphi received recently.
We are proud holders of the Hamburg family seal
We actively support our employees in combining career opportunities with the demands of family challenges.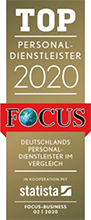 Awarded as TOP personnel service provider 2020
For the fourth time in a row we are among the FOCUS TOP personnel service providers in the categories "Executive Search" and "Professional & Specialist Search" in Germany. The evaluation criteria include the quality and selection of the candidate profiles offered, service quality, price-performance ratio and speed of placement.
Learn more: FOCUS-BUSINESS "Salary & Career 2020"